We met these zebra in the forest as we drove up the track to Lake Rutundu on the northern slopes of Mt. Kenya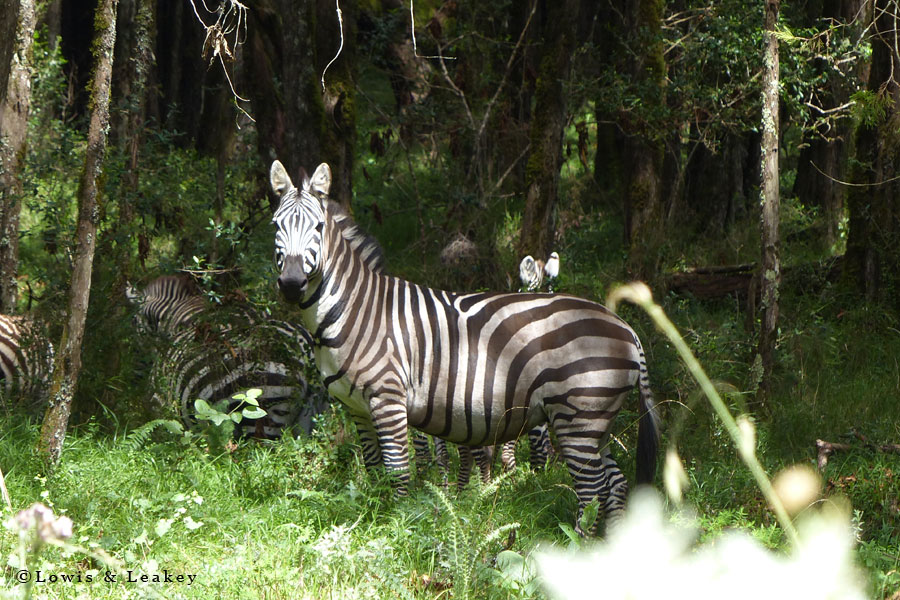 Kizita gorge is very deep so you leave your cars on the opposite side to the cabin and hike the last section to the cabins. There is a precarious looking winch system that works perfectly to get bags, firewood and supplies across the gorge so you don't have to lug them across.
Rutundu has two log cabins built out of cedar logs, the cracks between the logs have been stuffed with moss to keep the wind out. The main cabin has a quaint sitting and dining room with a big fireplace, a verandah with the most amazing view of the lake and the peaks of Mt Kenya beyond, and the small kitchen is perfcet . The main bedroom sleeps four and has en-suite  bathroom an the second cabin also sleeps 4
The area is beautiful and the big draw for our family was the hiking and fishing. There is a little boat on the Lake and on our first evening we caught a lovely big rainbow trout for supper.
Lake Alice, is over 1,000 feet higher up the mountain and the hike takes about  two-hours walk further up the mountain (Amelia who is 8, managed it happily).
We also fished the little crystal clear river that runs through Kizita gorge that is stocked with Brown trout.